An interview with Trumpet Blossom Cafe owner Katy Meyer
Little Village sits down with Katy Meyer, owner of the Trumpet Blossom Cafe, to discuss the nuances of vegan cuisine. Meyer discusses what shaped her philosophy on food, her family's history with cattle farming, food tattoos and more. Lets get to it!
Little Village: Is Trumpet Blossom strictly vegan?
Katy Meyer: Yes, a lot of places in town have vegan options but we're the only place that's vegan. We're actually the only place that's even just vegetarian.
LV: Is it true that you grew up on a cattle farm?
KM: Not specifically. Both of my sets of grandparents were involved...READ MORE
This type of framework is so often the key to the success of vegetarian cuisine—breaking out of the mold of how we think about the dinner plate. And that is where Trumpet Blossom Café excels. READ MORE
"This restaurant offers a wide variety of vegan dishes that are packed with flavor. "
- Iowa Public Television
"Iowa City's best venue for live music"
Says Raia Lichen, who moved back to Iowa City after living 10 years in one of New York's famed neighborhoods for live music - Greenpoint, Brooklyn.
"The Trumpet Blossom brings in a variety of shows from folk to punk rock to funky electric dance music. The beautiful handcrafted bar makes it a unique space in Iowa City to enjoy not only the live performances but the aesthetic of the space itself. There is no other place in Iowa City where you can order a well made classic cocktail, a local brew, or a simple PRB and rock out, chill out, or let loose to some of the best performers in the area and on tour. "
A lovely personal testimonial shared by one of our regulars. If you're looking for live music please see our 6-year-long history of Little Village write ups and up coming shows here.
Vegetarian has never tasted better than Trumpet Blossom Cafe
Add it all up and the dish, with a litany of flavors and varying levels of crispiness, was a kaleidoscopic eating experience: Bright, bold, colorful and full of contrasts.
Iowa City Press-Citizen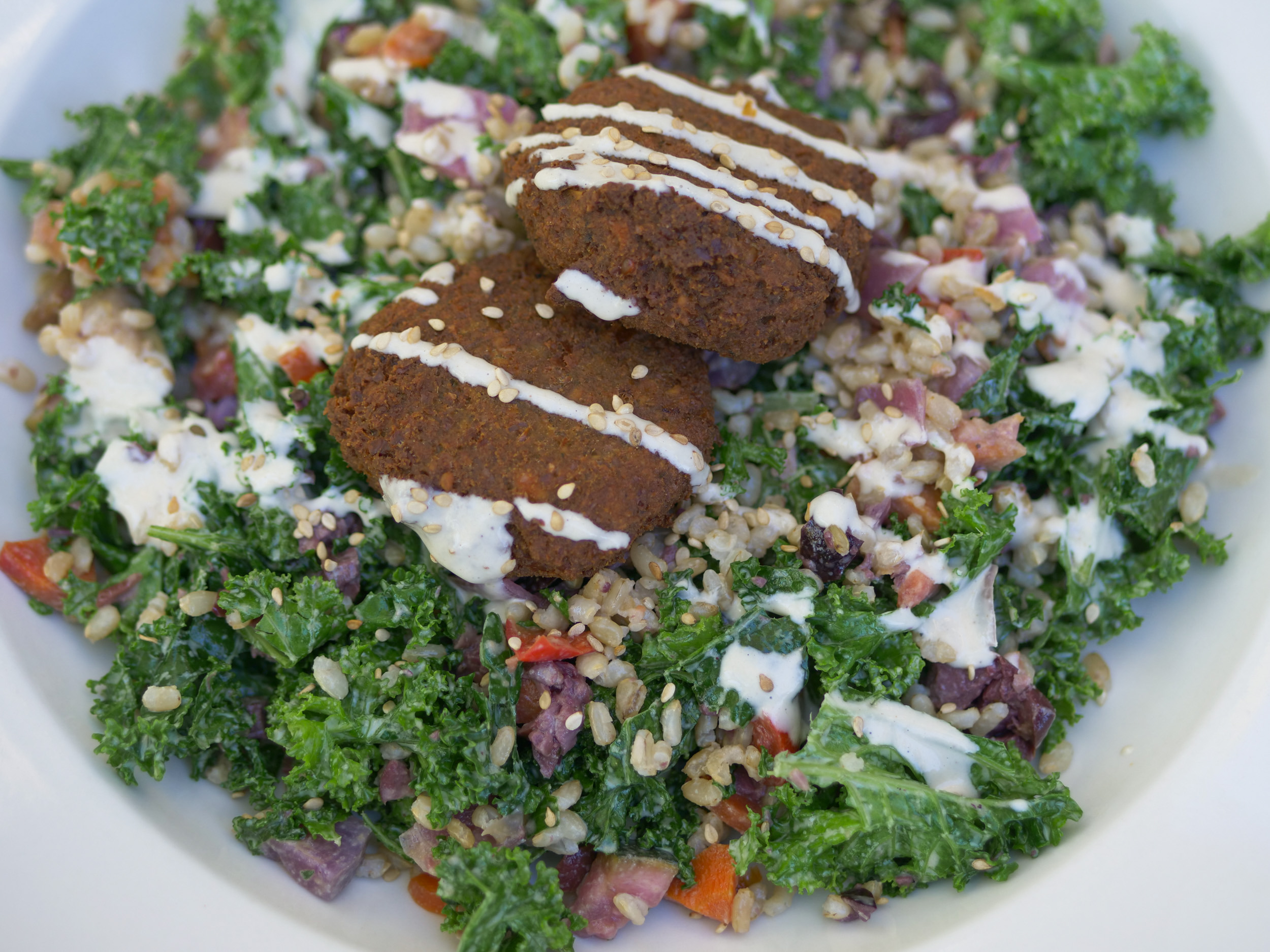 2016
Best Vegetarian Menu: Trumpet Blossom Café
Vegan Brunch at Trumpet Blossom in Iowa City
A long holiday weekend to me means brunch. Nothing like a savory tofu scramble or sticky stack of pancakes to make a day feel a little more leisurely. David and I celebrated the three-day weekend by visiting Trumpet Blossom, a vegan restaurant in Iowa City. (You may remember that I posted about their brunch menu back in July.)
This day we took advantage of their outdoor patio to soak up some of the cool-but-comfortable fall weather. We were in good company...READ MORE
First Iowa City drag king pageant
April 19th, 2018
"We hope to draw in and serve a wider portion of the community — our LGBTQIA+ — community, as well as our allies," Ellis said in an email to The Daily Iowan. "Trumpet Blossom allowing us to use its space for this event, along with the show time of 7 p.m., allows for a broader audience, including the greatest underserved community: LGBTQIA+ youth." - Cassie Ellis
Hancher Culinary Arts Experience
Wednesday, May 2nd 2018
$40 per person
Includes dinner, non-alcoholic beverages, tax, and gratuity
Must be purchased in advance
Stay tuned for Trumpet Blossom Cafe on the 2019 line up!